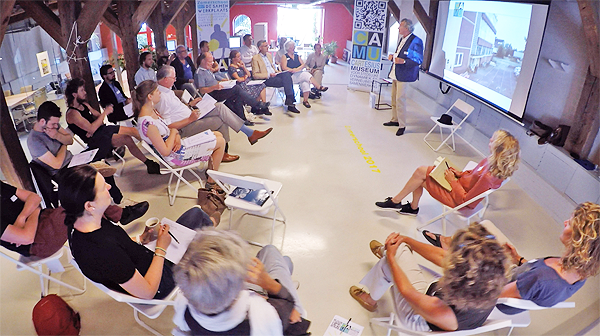 ERTNAM is an in 2013 initiated, Netherlands based network dedicated to the Cultural and Creative Industries. Cooperation and sharing of research and training experiences form its leading principles. The innovative, international recognised knowledge pool of ERTNAM is based on the following methods and models:
• Cultural entrepreneurship, mentality and method
• Regional and urban organization of Cultural SMEs
• The entrepreneurial dimension of cultural and creative industries
• Cultural Business Modelling'
• Creative Zone Innovator
• Soft factors as infrastructure with cultural districts
• 'StratLabs' Informal learning in the creative industries
• Cooperative ways of working
• DoItYourself/DoItTogether initiatives (DIY/DIT)
• Leadership and inclusive strategies
• Future Proof Education and Change
ERTNAM AS NETWORK
ERTNAM is formed by a group of researchers, trainers, teachers and consultants from Utrecht, Amsterdam, Rotterdam, Antwerp, Maastricht, Panama, Tbilisi, among others.
The ERTNAM board of Governors oversees the main topics in the several fields of the creative economy and runs own knowledge and training events.
The governors are:

• Prof. dr. Giep Hagoort (chairman)
Prof. Giep Hagoort PhD LLM (1948) is creativity professor and emeritus at the Utrecht University/HKU in the Netherlands. As co-founder of the Utrecht School of Art and Economics in 1986 he initiated a lot of educational and research activities e.g. Master and PhD programmes, international research conferences and European research projects. He published over 100 publications on creativity, innovation, management and entrepreneurship. His book Art Management Entrepreneurial Style has been translated into six languages all over the world. In 2000 as cultural pioneer he started his own private institute the Amsterdam School of Management. In 2009/2010 he was research leader of the Pan-European Union project on The Entrepreneurial Dimension of Cultural and Creative industries. In 2014 the Dutch minister of Culture asked him to join the audit commission to evaluate the six National Culture Funds. His is curator Cultural entrepreneurship of Cartesius MuseumProf. Giep Hagoort is chairman of ERTNAM European Research and Training Network on Art Management. (www.ertnam.eu).
• Vera de Jong MA

Vera de Jong obtained a BAE Art and Economics at the Utrecht University of the Arts and a
MA Cultural Economics and Cultural Entrepreneurship at the Era
smus University Rotterdam. Her expertise: creative clusters, creative networks and creative urban development. Vera has worked as a projectmanager of several creative clusters in Amsterdam. Vera is currently attached to School of the Arts as researcher and lecturer. She is also co-founder of Urban Connectors, an agency specializing in creative urban development.
www.urbanconnectors.com

• Rene Kooyman MME, DEA 
Drs. Rene Kooyman graduated from the State Conservatory of Music, and studied Regional Development at the Groningen University in the Netherlands. He received a Master in Urban Area Development, and a DEA Degree in Economics and Sociology from The University of Geneva, Switzerland. As International Research Fellow and Lecturer of the School of Arts & Economics of the Utrecht University of the Arts, he manages international research projects in Arts and Economics. His books and papers discuss cultural entrepreneurship, cultural strategic management, creative urban renewal and cultural policies.

In 2010, he initiated the Chair of International Affairs at the Rotterdam Port Authority. He is Managing Editor of the EU Research on the Entrepreneurial Dimension of Cultural and Creative Industries. In the Final Report, published in 2011, the state of affairs regarding the Cultural and Creative Industries within the EU 27 countries has been analysed. The European Commission has adopted this document as its basic policy document for its policy on the Cultural and Creative Industries. At present he holds the position of Project Manager at the EU Creative Urban Renewal (CURE) Project.
www.rkooyman.com
• Gerardo Neugovsen MA AMMEC
Gerardo Neugovsen has a Master Degree in Arts and Media Management from the Open University of London and the University of the Arts Utrecht, The Netherlands. He is born in Argentina, has lived for several decades in Holland and lives in Panamá. He teaches at several universities, and facilitates innovation processes at companies, 
governamental organizations, entrepreneurs and NGOs. He specializes in the development of pedagogic methods that can help people in organizations to innovate as part of their strategic development. recently he has been contracted as Strategic Planner by the United Nations and as key speaker during the 6th. Meeting of Cultural Ministers of American Countries – OAS.  He also works with community based organizations in Latin America, seeking to reinforce their entrepreneurial and sustainable potentials. Has written many articles published in several languages and recently has published his book "Authors-entrepreneurs a handbook for self publishing through Internet" which has been presented in Madrid, Spain.
• Dr. Johan Kolsteeg
Johan Klsteeg is an Assistant Professor of Arts Marketing and Policy at the Department of Arts, Culture and Media at the University of Groningen, the Netherlands. He studied musicology at Utrecht University and worked in the field of contemporary and classical music as a
programmer and author. He worked for the Dutch broadcasting company NCRV as manager classical music radio and television,
and was involved in the development of award winning new media concepts. He worked at HKU University of the Arts, school of Arts and Economics, as a senior lecturer and professor. He obtained a PhD on strategy processes in cultural and creative organizations.
j.a.c.kolsteeg@rug.nl, www.rug.nl
Publications: http://www.rug.nl/staff/j.a.c.kolsteeg/research
Rug.academia.org/johankolsteeg
• Astrid Elburg
Astrid Elburg is a management consultant, coach, lecturer, trainer and member of supervisory boards in the Dutch cultural sector. She is an expert in the fields of leadership, education and inclusive strategies. In her publications she researches the perspectives for people with a migrant backgrounds. In a dialogue with Giep Hagoort about cooperation
andeducation she stated (2016): 'A major task lies in education, with the motto: we do not train for that one function in that specific company. Instead we faciltate a collaborative, entrepreneurial attitude, that leads to permanent learning and continuous development.'
• Betty Kriekaard
Office Manager
Management assistent at Hogeschool voor de Kunsten Utrecht.
Betty Kriekaard has served national and international private export companies. She organizes international conferences and seminars in the fields of research and education. Within organisations she is involved with logistics, accommodation, administration and personnel matters.
Former Governor (2013-2015): 
• Elselien Smit MA
Management Consultant, trainer, PhD researcher
Elselien Smit has a degree in Education Learning Theory and Cognitive Psychology. She also graduated in Ballet from Tilburg Conservatory for Music and Ballet. She works as a researcher, practitioner and trainer in the domain of sustainable strategy and -organization development and sustainable and mutual value creation. She is also a PhD candidate in this domain. She facilitated and managed multidisciplinary- and cross organization border collaboration projects and she was project leader of national and international projects. Important sources ofinspiration for the guiding principles she uses are ways of working based on action research, appreciative inquiry and communities of practice.